Tai Chi Bournemouth and Poole
New 10 Week Beginners Course


Traditional Daoist Qigong


Commencing

Monday 15th January 2024
Holy Angels Church Hall



7pm - 8pm






The teaching is initially introduced as a 10-week beginners' course
( No Previous Experience Needed )
After the course you will be invited to attend a regular weekly class dependent upon your needs and objectives
Call
&nbsp07941 086996
for details
Your Instructor
Your instructor at 'Tai Chi Bournemouth and Poole' is Master Alan Tinnion.
Alan is an inner chamber disciple of Grandmaster Chee Kim Thong (Shaolin, China) and has more than 30 years experience of teaching students of all ages and abilities.
Alan is recognised as one of the world's leading authorities on the ancient and traditional arts of Wujiquan, Luohan Ru-Yi Quan, and Wuzuquan and is a member of the Qi Gong Institute.
He is a Doctor of Traditional Chinese Medicine (Advanced), having graduated from Shanghai University of TCM ( Traditional Chinese Medicine ) 1993.
Following graduation, Alan worked as a practitioner at the Shanghai No. 1 People's Hospital, before relocating back to the UK.
He is fluent in Colloquial Chinese having been accepted to study at SOAS, University of London, for the degree of BA (Hons) Chinese Mandarin Language 1997.
Welcome
At 'Tai Chi Bournemouth and Poole' we provide walk-in classes, mixed gender or female only, in Bournemouth, Poole and neighbouring areas of Dorset and Hampshire to suit beginner, intermediate, and advanced level students.
Classes have a relaxed, informative, atmosphere and we encourage anyone who is interested in learning Tai Chi and Qi Gong to come along and participate, regardless of age or ability.
We also offer courses, seminars and workshops for those wishing to broaden their knowledge and understanding of the concepts and teachings which lay at the heart of Tai Chi and Qi Gong.
If you would like to try it, or simply find out more, then why not come along and join us, and experience the life enhancing and rewarding benefits of Tai Chi and Qi Gong.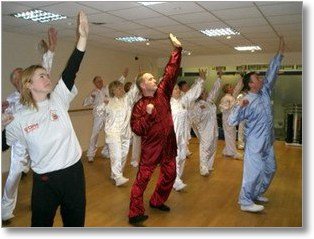 Alan continues to treat patients at both of his Bournemouth surgeries as well as instructing students on a regular basis at 'Tai Chi Bournemouth and Poole'.